The Baltimore LED Art Billboard
Providing a unique showcase for the artists and creative minds of Baltimore to entertain, educate, and inspire.
The Baltimore LED Art Billboard is an advertising billboard, but it is also a digital art display. We have taken a technology typically used for advertising and created a one of a kind digital art gallery. providing local artists incredible exposure to the public…absolutely FREE. Rotated in among the advertising are submitted images of every form of art, from painting, drawing, and illustration, to sculpture, photography, and game design. We welcome submissions from all local artists, student, amateur, and professional alike. After every few ads we will display a piece of art.
Content is updated regularly, with a full-time selection process involving local galleries, The Baltimore Office of Promotion & The Arts, Shanklin Media, and various figures in Baltimore's artistic community. Beyond showcasing artists work on the LED Billboard we have created a companion website, LEDBaltimore.com, where every artist featured on the board has a profile showcasing their work, links to their portfolio, and contact info and rates for any skills they can be hired for. This allows each artist to be contacted directly by interested art buyers, and because there is no commission fee, the artist keeps 100% of the sale price.
Besides being an incredible place to see or purchase art, it is also a dynamic and engaging talent pool for every industry in need of unique and creative individuals. Our goal is to bring art to the general public, to expose people that have never gone to a museum or gallery to the beautiful creations that exist. In doing this we hope to entertain all who see the art, and inspire everyone, especially our youth to explore the creative talents that lie within themselves.
The Baltimore LED Art Billboard displays art year round.
A 52′ H X 42′ W LED showcase that is 100% FREE to all artists.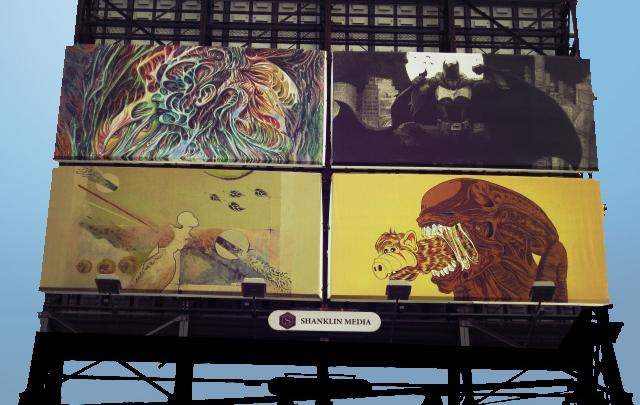 We even turned the back of the billboard into an art display. The Baltimore LED Art Billboard takes submissions from local artists and we not only display their work on the LED front, but also the back of the board. We took what is usually a bare metal empty space on the back of the billboard and installed four 10′ H X 20′ W art frames. We take the art and print it out on 10′ X 20′ vinyl and display it on the back of the billboard structure. This makes The Baltimore LED Art Billboard a true 360 degree art display. Like everything else about this project, we print and display the art at no cost to the artist. We hope that everyone will enjoy the variety and creativity of the art that we will display on this board. It is our hope to make everyone's life a little more beautiful through art.